Awards
QO-100 Dx Club proudly presents the QO-100 Dx Club Award
The award is assigned to stations who made 2-way contacts (any mode) via QO-100 satellite.
There are 4 levels:
50 DXCC Entities - Bronze
100 DXCC Entities - Silver
150 DXCC Entities - Gold
175 DXCC Entities - Platinum
You can check the list of valid DXCC Entities for the award.
The awards are generated at member's request, issued based on log records and will be available to download on Profile page.
Issued Awards
DXCC Bronze Award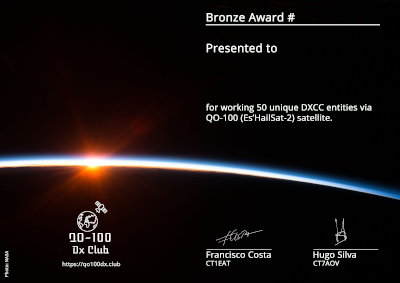 | # | Call Sign | Issue Date |
| --- | --- | --- |
| 1 | M0HOJ | 2021-04-04 |
| 2 | DF2ET | 2021-04-05 |
| 3 | PY2RN | 2021-04-05 |
| 4 | EA2AA | 2021-04-05 |
| 5 | DF1VB | 2021-04-05 |
| 6 | VU2LBW | 2021-04-05 |
| 7 | DG3YJB | 2021-04-05 |
| 8 | CU3AN | 2021-04-05 |
| 9 | DL7NX | 2021-04-05 |
| 10 | DL1ZU | 2021-04-05 |
| 11 | OK1PHU | 2021-04-05 |
| 12 | IW1FZR | 2021-04-05 |
| 13 | RA3DNC | 2021-04-05 |
| 14 | DG7YEO | 2021-04-05 |
| 15 | OK1CJH | 2021-04-05 |
| 16 | A41ZZ | 2021-04-05 |
| 17 | DG9FFM | 2021-04-05 |
| 18 | SQ5PE | 2021-04-05 |
| 19 | OK1DST | 2021-04-05 |
| 20 | PP2RON | 2021-04-05 |
| 21 | DL9DAC | 2021-04-05 |
| 22 | LZ1GHT | 2021-04-06 |
| 23 | OM1II | 2021-04-06 |
| 24 | HB9TSI | 2021-04-06 |
| 25 | LA9XGA | 2021-04-06 |
| 26 | YO3IHG | 2021-04-06 |
| 27 | YO2CMI | 2021-04-06 |
| 28 | RD7P | 2021-04-06 |
| 29 | DO3EF | 2021-04-06 |
| 30 | 9A2EY | 2021-04-06 |
| 31 | OK1UM | 2021-04-06 |
| 32 | DL2GRC | 2021-04-06 |
| 33 | G7BTP | 2021-04-06 |
| 34 | PR8KW | 2021-04-07 |
| 35 | PT9BM | 2021-04-07 |
| 36 | DO4HA | 2021-04-07 |
| 37 | IS0KEB | 2021-04-07 |
| 38 | PS8ET | 2021-04-07 |
| 39 | VU2NSL | 2021-04-08 |
| 40 | DK7SS | 2021-04-09 |
| 41 | OM3WAN | 2021-04-09 |
| 42 | VU3YWY | 2021-04-09 |
| 43 | HB9EKO | 2021-04-10 |
| 44 | ZS6CR | 2021-04-12 |
| 45 | YO2RR | 2021-04-12 |
| 46 | GW8TIX | 2021-04-12 |
| 47 | DH2PA | 2021-04-12 |
| 48 | YL3DW | 2021-04-13 |
| 49 | HB0TR | 2021-04-13 |
| 50 | M0KDS | 2021-04-14 |
| 51 | G0ABI | 2021-04-14 |
| 52 | PA3FYM | 2021-04-15 |
| 53 | DO2TC | 2021-04-15 |
| 54 | EB1AO | 2021-04-15 |
| 55 | PA3ANG | 2021-04-15 |
| 56 | DK3RW | 2021-04-16 |
| 57 | DL8UVG | 2021-04-16 |
| 58 | CT2HUU | 2021-04-16 |
| 59 | IK4CIE | 2021-04-17 |
| 60 | 4O4A | 2021-04-18 |
| 61 | F6HRP | 2021-04-19 |
| 62 | EA3CAZ | 2021-04-19 |
| 63 | YO8RNP | 2021-04-20 |
| 64 | YC5YC | 2021-04-20 |
| 65 | LA0FA | 2021-04-20 |
| 66 | IU0LFQ | 2021-04-20 |
| 67 | ON4DAK | 2021-04-20 |
| 68 | DG3SBJ | 2021-04-20 |
| 69 | LA7XK | 2021-04-21 |
| 70 | DJ8EI | 2021-04-21 |
| 71 | HB9RYZ | 2021-04-21 |
| 72 | SP3BGD | 2021-04-22 |
| 73 | SP9FPP | 2021-04-22 |
| 74 | HB9EIY | 2021-04-24 |
| 75 | DL5ST | 2021-04-24 |
| 76 | SQ7BCN | 2021-04-25 |
| 77 | LY1FX | 2021-04-25 |
| 78 | ON1GL | 2021-04-25 |
| 79 | R5AO | 2021-04-25 |
| 80 | DL4ZAB | 2021-04-25 |
| 81 | PA3EKG | 2021-04-26 |
| 82 | ON4AVT | 2021-04-28 |
| 83 | DL9AJ | 2021-05-03 |
| 84 | HB9GWJ | 2021-05-04 |
| 85 | EB1B | 2021-05-05 |
| 86 | OM0MS | 2021-05-08 |
| 87 | M0XUU | 2021-05-14 |
| 88 | ZS1RBT | 2021-05-15 |
| 89 | 3B8FA | 2021-05-16 |
| 90 | CU2ZG | 2021-05-22 |
| 91 | DJ7ZZ | 2021-05-24 |
| 92 | OK2VLT | 2021-05-25 |
| 93 | PE1CMO | 2021-05-30 |
| 94 | 2E0WKW | 2021-05-30 |
| 95 | DF2PI | 2021-06-01 |
| 96 | 9K2OK | 2021-06-02 |
| 97 | V51JP | 2021-06-06 |
| 98 | DL6GBM | 2021-06-07 |
| 99 | HA7NB | 2021-06-07 |
| 100 | PA7RA | 2021-06-09 |
| 101 | DD5JI | 2021-06-10 |
| 102 | PF0A | 2021-06-10 |
| 103 | SP5MNF | 2021-06-13 |
| 104 | DL8SDQ | 2021-06-13 |
| 105 | EI8KF | 2021-06-13 |
| 106 | F5SG | 2021-06-14 |
| 107 | EA8CXN | 2021-06-14 |
| 108 | OK1FWG | 2021-06-14 |
| 109 | IK1IYU | 2021-06-14 |
| 110 | PA1EJO | 2021-06-14 |
| 111 | PR8ZX | 2021-06-20 |
| 112 | F4ANS | 2021-06-21 |
| 113 | DC5IMM | 2021-06-22 |
| 114 | SP5XSD | 2021-07-03 |
| 115 | DK6LF | 2021-07-03 |
| 116 | A71AE | 2021-07-04 |
| 117 | VU2EEI | 2021-07-06 |
| 118 | GM0NRT | 2021-07-07 |
| 119 | PY5ZUE | 2021-07-07 |
| 120 | LZ1CWK | 2021-07-10 |
| 121 | DL1RI | 2021-07-17 |
| 122 | DL1DUO | 2021-07-17 |
| 123 | EA7E | 2021-07-18 |
| 124 | F4BKV | 2021-07-18 |
| 125 | R9LAU | 2021-07-21 |
| 126 | DL4FBZ | 2021-07-23 |
| 128 | ON4ASG | 2021-08-02 |
| 129 | SP3AU | 2021-08-03 |
| 130 | IW1GAL | 2021-08-06 |
| 131 | F5IGF | 2021-08-08 |
| 132 | DF7CB | 2021-08-16 |
| 133 | G4GIR | 2021-08-21 |
| 134 | DG3RAP | 2021-08-30 |
| 135 | DD1US | 2021-08-30 |
| 136 | DL1RNO | 2021-08-31 |
| 137 | OZ9F | 2021-09-01 |
| 138 | EA1DR | 2021-09-12 |
| 139 | ZS1II | 2021-09-15 |
| 140 | EU2AA | 2021-09-20 |
| 141 | DL4DAC | 2021-09-21 |
| 142 | OE7BJT | 2021-09-23 |
| 143 | DF0BT | 2021-09-24 |
| 144 | DL5AKF | 2021-09-25 |
| 145 | EA2ABZ | 2021-09-25 |
| 146 | IK2SAI | 2021-09-27 |
| 147 | PA4R | 2021-10-01 |
| 148 | DJ7AO | 2021-10-02 |
| 149 | DH6VL | 2021-10-03 |
| 150 | DL9RAN | 2021-10-12 |
| 151 | DL5RDI | 2021-10-13 |
| 152 | EA7P | 2021-10-14 |
| 153 | I8JJB | 2021-10-16 |
| 154 | EA6Y | 2021-10-17 |
| 155 | PY1AX | 2021-10-17 |
| 156 | SQ5BB | 2021-10-18 |
| 157 | YO2BOF | 2021-10-23 |
| 158 | HB9DQJ | 2021-10-26 |
| 159 | CT7AOV/P | 2021-10-28 |
| 160 | SP8NR | 2021-10-29 |
| 161 | E70T | 2021-11-03 |
| 162 | DJ4FF | 2021-11-05 |
| 163 | F4CIB | 2021-11-07 |
| 164 | DL1EMA | 2021-11-08 |
| 165 | OH4MS | 2021-11-11 |
| 166 | SP2GUB | 2021-11-12 |
| 167 | EA7KJW | 2021-11-14 |
| 168 | DL7UE | 2021-11-17 |
| 169 | DL2DCX | 2021-11-21 |
| 170 | F1MKC | 2021-11-25 |
| 171 | SP5GNI | 2021-11-27 |
| 172 | EB3JT | 2021-11-28 |
| 173 | YO8AAZ | 2021-11-29 |
| 174 | 9X4X | 2021-12-03 |
| 175 | DG9MAQ | 2021-12-06 |
| 176 | RA9DA | 2021-12-08 |
| 177 | SP2HPD | 2021-12-10 |
| 178 | YL3GGT | 2021-12-11 |
| 179 | 4Z1TL | 2021-12-15 |
| 180 | SQ4MIK | 2021-12-17 |
| 181 | DC1OA | 2021-12-19 |
| 182 | VU2DPN | 2021-12-20 |
| 183 | DP0GVN | 2021-12-25 |
| 184 | HB9VAA | 2022-01-03 |
| 185 | EA7WL | 2022-01-03 |
| 186 | IS0DCR | 2022-01-09 |
| 187 | ES3RF | 2022-01-12 |
| 189 | R7LP | 2022-01-15 |
| 190 | SP9FMP | 2022-01-15 |
| 191 | DL7ARV | 2022-01-22 |
| 192 | AP2MS | 2022-01-23 |
| 193 | M0GAQ | 2022-01-24 |
| 194 | ON6AJ | 2022-01-25 |
| 195 | DF9VN | 2022-01-28 |
| 196 | DC7DX | 2022-01-29 |
| 197 | YO6UO | 2022-01-30 |
| 198 | EA3NJ | 2022-01-30 |
| 199 | ON7CL | 2022-02-03 |
| 200 | SV1JG | 2022-02-07 |
| 201 | DL3IAS | 2022-02-13 |
| 202 | 9A3ST | 2022-02-13 |
| 203 | DL1TKL | 2022-02-16 |
| 204 | DH1DA | 2022-02-17 |
| 205 | PY2PIM | 2022-02-17 |
| 206 | F5OMU | 2022-02-19 |
| 207 | DO4FB | 2022-02-21 |
| 208 | 4X1KP | 2022-02-21 |
| 209 | PE2D | 2022-02-22 |
| 210 | LZ1JH | 2022-03-06 |
| 211 | CX/PR8KW | 2022-03-11 |
| 212 | DH0GSU | 2022-03-13 |
| 213 | F6GLJ | 2022-03-16 |
| 214 | G4TQM | 2022-03-24 |
| 215 | DL4CH | 2022-03-28 |
| 216 | DO7TC | 2022-04-02 |
| 217 | IW2ILQ | 2022-04-19 |
| 218 | G4VFL | 2022-05-01 |
| 219 | G0TKZ | 2022-05-14 |
| 220 | ST2NH | 2022-05-23 |
| 221 | I3BUI | 2022-05-25 |
| 222 | DJ3KS | 2022-05-29 |
| 223 | SP5XSD/P | 2022-06-03 |
| 224 | DL5NEB | 2022-06-06 |
| 225 | DL1BM | 2022-06-14 |
| 226 | 4Z1DZ | 2022-06-19 |
| 227 | G3ZXX | 2022-06-26 |
| 228 | V51MA | 2022-06-26 |
| 229 | IK8YTA | 2022-07-03 |
| 230 | RA1TL | 2022-07-03 |
| 231 | EA3BT | 2022-07-04 |
| 233 | IK6ZDF | 2022-07-06 |
| 234 | UA6ATG | 2022-07-09 |
| 235 | I2OIM | 2022-07-09 |
| 236 | 4X1AJ | 2022-07-11 |
| 237 | DL5XL | 2022-07-12 |
| 238 | PY2UGO | 2022-07-27 |
| 239 | OK6DJ | 2022-08-02 |
| 240 | DO7INT | 2022-08-10 |
| 241 | R6YY | 2022-08-10 |
| 242 | EA3BS | 2022-08-12 |
| 243 | EA7KI | 2022-08-16 |
| 244 | SQ6ILB | 2022-08-20 |
| 245 | IK1GPG | 2022-08-22 |
| 246 | SM4IVE | 2022-08-23 |
| 247 | IK4MSV | 2022-08-25 |
| 248 | EA3A | 2022-08-27 |
| 249 | PF1B | 2022-08-27 |
| 250 | IZ8FAV | 2022-08-28 |
| 251 | DG4DW | 2022-09-05 |
| 252 | UA3XFO | 2022-09-11 |
| 253 | VU2GRM | 2022-09-16 |
| 254 | SQ6PNT | 2022-09-17 |
| 255 | EA1RX | 2022-09-27 |
| 256 | EA1BNF | 2022-10-01 |
| 257 | IK0NMJ | 2022-10-10 |
| 258 | G0OUC | 2022-10-17 |
| 259 | UR8IP | 2022-10-18 |
| 260 | LX1X | 2022-10-18 |
| 261 | F9IE | 2022-10-19 |
| 262 | OE6MMF | 2022-10-19 |
| 263 | RM5P | 2022-10-23 |
| 264 | PA3DSB | 2022-10-27 |
| 265 | IK6QOO | 2022-10-29 |
| 266 | VU2RCY | 2022-10-30 |
| 267 | HB9SZV | 2022-10-30 |
| 268 | F6EQD | 2022-10-30 |
| 269 | PY6JTV | 2022-10-31 |
| 270 | CT7ABD | 2022-11-01 |
| 271 | SP4LIN | 2022-11-03 |
| 272 | R6LHY | 2022-11-06 |
| 273 | YL2GC | 2022-11-08 |
| 274 | G5TV | 2022-11-08 |
| 275 | DH1DCN | 2022-11-12 |
| 276 | DL1SWB | 2022-11-25 |
| 277 | ON4VT | 2022-11-27 |
| 278 | F5RRS | 2022-11-27 |
| 279 | UA6ARR | 2022-12-04 |
| 280 | RK6MF | 2022-12-07 |
| 281 | DG8HJ | 2022-12-08 |
| 282 | DC7MF | 2022-12-11 |
| 283 | IW0HJZ | 2022-12-13 |
| 284 | DK5OPA | 2022-12-14 |
| 285 | CT2GVH | 2022-12-16 |
| 286 | SV3AQO | 2022-12-17 |
| 287 | EA3E | 2022-12-26 |
| 288 | DG1RTV | 2022-12-28 |
| 289 | SV3AQT | 2023-01-01 |
| 290 | IK0YKM | 2023-01-03 |
| 291 | IW0ELF | 2023-01-04 |
| 292 | EA1P | 2023-01-06 |
| 293 | HB9AOF | 2023-01-07 |
| 294 | VU3ARP | 2023-01-08 |
| 295 | SV2HZT | 2023-01-08 |
| 296 | DL4MAU | 2023-01-09 |
| 297 | SV5BYR | 2023-01-13 |
| 298 | PA3CPI | 2023-01-13 |
| 299 | ZP4/PY5ZUE | 2023-01-13 |
| 300 | F8ATM | 2023-01-14 |
| 301 | EA3DC, EA3FZS | 2023-01-14 |
| 302 | EA8DHA | 2023-01-19 |
| 303 | EW1CD | 2023-01-20 |
| 304 | 4Z5JJ | 2023-01-20 |
| 305 | DL1YDT | 2023-01-20 |
| 306 | DL1JEZ | 2023-01-20 |
| 307 | DJ9JY | 2023-01-21 |
| 308 | HB9BZA | 2023-01-26 |
| 309 | DM2FK | 2023-01-28 |
| 310 | DL2QB | 2023-01-28 |
| 311 | OE3KEU | 2023-01-28 |
| 312 | DL5KUA | 2023-02-01 |
| 313 | OE3JAG | 2023-02-04 |
| 314 | EA5SW | 2023-02-11 |
| 315 | DO4BMW | 2023-02-11 |
| 316 | SV3QUP | 2023-02-12 |
| 317 | DL6KBG | 2023-02-19 |
| 318 | YL2RN | 2023-02-25 |
| 319 | YO2MAX | 2023-02-25 |
| 320 | DK3ZL | 2023-02-28 |
| 321 | OZ0HF | 2023-03-03 |
| 322 | GI7ULG | 2023-03-03 |
| 323 | S57RX | 2023-03-04 |
| 324 | EC3TZ, F4BKV | 2023-03-05 |
| 325 | DH7IF | 2023-03-05 |
| 326 | OZ9AAR | 2023-03-06 |
| 327 | R9LR | 2023-03-08 |
| 328 | IZ0JNY | 2023-03-09 |
| 329 | IN3ZWF | 2023-03-15 |
| 330 | TK1CX | 2023-03-20 |
| 331 | G7OMT | 2023-03-20 |
| 332 | SZ2T | 2023-03-24 |
| 333 | OH1FOL | 2023-03-27 |
| 334 | DL1ARG | 2023-04-01 |
| 335 | PA2MP | 2023-04-02 |
| 336 | CU3AA | 2023-04-04 |
| 337 | DL2GRC | 2023-04-07 |
| 338 | DL1EAL | 2023-04-09 |
| 339 | DJ6OI | 2023-04-10 |
| 340 | DK5EW | 2023-04-10 |
| 341 | SV9RGI | 2023-04-12 |
| 342 | M0BOY | 2023-04-13 |
| 343 | RA4LFN | 2023-04-14 |
| 344 | DJ0WJ | 2023-04-16 |
| 345 | A71UN, A71UN/P | 2023-04-17 |
| 346 | G7UFO | 2023-04-18 |
| 347 | DL8ZAW | 2023-04-18 |
| 348 | EI3DP | 2023-04-21 |
| 349 | OK1CDJ, SV0SYH | 2023-04-26 |
| 350 | EA1IQ | 2023-04-26 |
| 351 | F4IZC | 2023-04-26 |
| 352 | DK1MI | 2023-04-28 |
| 353 | SV1HEP | 2023-05-02 |
| 354 | BG0CAB | 2023-05-05 |
| 355 | I4MKN | 2023-05-08 |
| 356 | IN3EQZ | 2023-05-24 |
| 357 | UA6FZ | 2023-05-28 |
| 358 | IW5BT | 2023-05-28 |
| 359 | 9A/DJ4FF/P, DJ4FF | 2023-05-30 |
| 360 | EA4T | 2023-05-31 |
| 361 | ON6AA | 2023-06-03 |
| 362 | G4WQG | 2023-06-08 |
| 363 | DL/F4EPU, F4EPU, F4EPU/P | 2023-06-11 |
| 364 | 9A4BP | 2023-06-14 |
| 365 | F4EGG | 2023-06-15 |
| 366 | A92AA | 2023-06-15 |
| 367 | LZ2BE | 2023-06-20 |
| 368 | M0HPF | 2023-06-22 |
| 369 | SP7WJ | 2023-06-25 |
| 370 | OE5VLL | 2023-06-30 |
| 371 | F8BSY | 2023-07-08 |
| 372 | ON7KEC | 2023-07-12 |
| 373 | HB9AOF | 2023-07-18 |
| 374 | YO8RCU | 2023-07-20 |
| 375 | SV1JDY | 2023-07-22 |
| 376 | DH1OK | 2023-07-25 |
| 377 | A92EE | 2023-07-26 |
| 378 | DJ3GZ | 2023-07-26 |
| 379 | EI2IP | 2023-07-30 |
| 380 | IZ2BKU | 2023-07-31 |
| 381 | DF8RU | 2023-08-07 |
| 382 | DL/F4EPU, F4EPU, F4EPU/P | 2023-08-09 |
| 383 | IK7FMQ | 2023-08-11 |
| 384 | F1GBD, F1GBD/P | 2023-08-11 |
| 385 | DM3BM | 2023-08-14 |
| 386 | IZ8FDH | 2023-08-16 |
| 387 | DL2DN | 2023-08-23 |
| 388 | HB9HZC | 2023-08-25 |
| 389 | F6HUJ | 2023-08-26 |
| 390 | VU2OW | 2023-08-26 |
| 391 | F1FOO | 2023-08-26 |
| 392 | DJ5KX, TM0BSM | 2023-08-27 |
| 393 | F6GKQ | 2023-08-27 |
| 394 | HB9DRM | 2023-08-28 |
| 395 | DB1YKA | 2023-09-09 |
| 396 | R3LO | 2023-09-10 |
| 397 | DL4ALI | 2023-09-11 |
| 398 | DF3MC | 2023-09-12 |
| 399 | G1TZC | 2023-09-13 |
| 400 | IW8DKM | 2023-09-19 |
DXCC Silver Award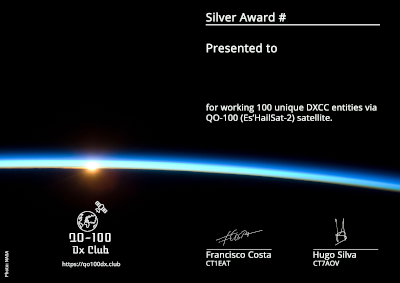 | # | Call Sign | Issue Date |
| --- | --- | --- |
| 1 | DF2ET | 2021-04-05 |
| 2 | PY2RN | 2021-04-05 |
| 3 | EA2AA | 2021-04-05 |
| 4 | DL7NX | 2021-04-05 |
| 5 | DL1ZU | 2021-04-05 |
| 6 | OK1PHU | 2021-04-05 |
| 7 | DG7YEO | 2021-04-05 |
| 8 | DL5GAC | 2021-04-05 |
| 9 | HB9TSI | 2021-04-06 |
| 10 | YO2CMI | 2021-04-06 |
| 11 | PR8KW | 2021-04-07 |
| 12 | PS8ET | 2021-04-07 |
| 13 | OM3WAN | 2021-04-11 |
| 14 | OE3DSB | 2021-04-14 |
| 15 | G0ABI | 2021-04-14 |
| 16 | PA3FYM | 2021-04-15 |
| 17 | EA3CAZ, EA3CJ | 2021-04-19 |
| 18 | DJ3GZ | 2021-05-12 |
| 19 | PE1CMO | 2021-05-30 |
| 20 | M0HOJ | 2021-06-09 |
| 21 | DJ7ZZ | 2021-06-10 |
| 22 | VU2LBW | 2021-06-11 |
| 23 | PA3ANG | 2021-06-13 |
| 24 | DL9DAC | 2021-06-13 |
| 25 | DL8SDQ | 2021-06-13 |
| 26 | IK1IYU | 2021-06-14 |
| 27 | YO3IHG | 2021-06-14 |
| 28 | SP9FPP | 2021-06-18 |
| 29 | 3B8FA | 2021-07-14 |
| 31 | DL4FBZ | 2021-07-31 |
| 32 | DK4VC | 2021-07-31 |
| 33 | LY1FX | 2021-08-07 |
| 34 | A41ZZ | 2021-08-07 |
| 35 | DL1DUO | 2021-08-19 |
| 36 | LZ1GHT | 2021-08-19 |
| 37 | G4GIR | 2021-08-21 |
| 38 | DD1US | 2021-08-30 |
| 39 | ZS1II | 2021-09-15 |
| 40 | DL5RDI | 2021-09-15 |
| 41 | HB9EKO | 2021-09-22 |
| 42 | DL2GRC | 2021-10-09 |
| 43 | G7BTP | 2021-10-09 |
| 44 | DL1RNO | 2021-10-11 |
| 45 | PR8ZX | 2021-10-13 |
| 46 | DK7SS | 2021-10-16 |
| 47 | OK1CJH | 2021-10-16 |
| 48 | SP3BGD | 2021-10-16 |
| 49 | OM0MS | 2021-10-16 |
| 50 | IW1FZR | 2021-10-21 |
| 51 | RA3DNC | 2021-10-22 |
| 52 | ON4ASG | 2021-10-22 |
| 53 | EU2AA | 2021-10-24 |
| 54 | ON4DAK | 2021-10-25 |
| 55 | SP8NR | 2021-10-29 |
| 56 | E70T | 2021-11-03 |
| 57 | OK2VLT | 2021-11-04 |
| 58 | PA3EKG | 2021-11-07 |
| 59 | PP2RON | 2021-11-12 |
| 60 | F5SG | 2021-11-12 |
| 61 | SM3NRY | 2021-11-12 |
| 62 | SQ7BCN | 2021-11-25 |
| 63 | EB1AO | 2021-11-26 |
| 64 | DL9AJ | 2021-11-29 |
| 65 | F4BKV | 2021-11-29 |
| 66 | SP5MNF | 2021-11-30 |
| 67 | OH4MS | 2021-12-01 |
| 68 | I8JJB | 2021-12-05 |
| 69 | DD5JI | 2021-12-15 |
| 70 | IK4CIE | 2021-12-20 |
| 71 | CU3AN | 2022-01-01 |
| 72 | HB9GWJ | 2022-01-10 |
| 73 | DL7ARV | 2022-01-22 |
| 74 | M0GAQ | 2022-01-24 |
| 75 | DL9RAN | 2022-01-25 |
| 76 | SP5XSD | 2022-01-28 |
| 77 | DL5ST | 2022-02-04 |
| 78 | DJ8EI | 2022-02-05 |
| 79 | PF0A | 2022-02-12 |
| 80 | IU0LFQ | 2022-02-15 |
| 81 | M0XUU | 2022-02-17 |
| 82 | DO4HA | 2022-02-20 |
| 83 | LZ1JH | 2022-03-06 |
| 84 | EB1B | 2022-03-22 |
| 85 | DL4CH | 2022-03-28 |
| 86 | V51JP | 2022-04-09 |
| 87 | SQ5BB | 2022-04-22 |
| 88 | DL8UVG | 2022-04-23 |
| 89 | IK2SAI | 2022-04-23 |
| 90 | DJ7AO | 2022-04-24 |
| 91 | SP5EXA | 2022-04-24 |
| 92 | RA9DA | 2022-05-13 |
| 93 | DG3SBJ | 2022-05-20 |
| 94 | ST2NH | 2022-05-23 |
| 95 | PA1EJO | 2022-05-27 |
| 96 | DF1VB | 2022-05-28 |
| 97 | ON7CL | 2022-05-29 |
| 98 | GW8TIX | 2022-06-04 |
| 99 | SP3AU | 2022-06-09 |
| 100 | F4CIB | 2022-06-12 |
| 101 | DK6LF | 2022-07-06 |
| 102 | DL5XL | 2022-07-12 |
| 103 | 9A3ST | 2022-07-18 |
| 104 | DL6GBM | 2022-08-05 |
| 106 | R6YY | 2022-08-10 |
| 107 | SP2HPD | 2022-08-14 |
| 108 | PY2PIM | 2022-08-15 |
| 109 | F6GLJ | 2022-08-20 |
| 110 | EA1DR | 2022-08-22 |
| 111 | HB9RYZ | 2022-08-28 |
| 112 | DG3YJB | 2022-09-04 |
| 113 | DG4DW | 2022-09-05 |
| 114 | LZ1CWK | 2022-09-09 |
| 115 | SP5GNI | 2022-09-16 |
| 116 | EA3A | 2022-09-27 |
| 117 | EA7P | 2022-10-08 |
| 118 | 4X1KP | 2022-10-09 |
| 119 | DL7UE | 2022-10-09 |
| 120 | DC7DX | 2022-10-11 |
| 121 | EB3JT | 2022-10-12 |
| 122 | F1MKC | 2022-10-15 |
| 123 | EA1BNF | 2022-10-20 |
| 124 | I3BUI | 2022-10-23 |
| 125 | RD7P | 2022-10-23 |
| 126 | VU2DPN | 2022-10-24 |
| 127 | DC5IMM | 2022-10-24 |
| 128 | DF0BT | 2022-11-02 |
| 129 | IK1GPG | 2022-11-25 |
| 130 | ON1GL | 2022-11-27 |
| 131 | DH6VL | 2022-12-05 |
| 132 | F5IGF | 2023-01-01 |
| 133 | SQ4MIK | 2023-01-03 |
| 134 | HB9AOF | 2023-01-07 |
| 135 | DC1OA | 2023-01-07 |
| 136 | SV5BYR | 2023-01-13 |
| 137 | PA3CPI | 2023-01-13 |
| 138 | 4Z1TL | 2023-01-20 |
| 139 | HB9VAA | 2023-01-23 |
| 140 | DL2QB | 2023-01-28 |
| 141 | DG3RAP | 2023-02-08 |
| 142 | DL5NEB | 2023-02-12 |
| 143 | DL1JEZ | 2023-02-25 |
| 144 | DK3ZL | 2023-02-28 |
| 145 | PA7RA | 2023-03-03 |
| 146 | R9LR | 2023-03-08 |
| 147 | DL1TKL | 2023-03-21 |
| 148 | SV2HZT | 2023-03-24 |
| 149 | DL1BM | 2023-03-29 |
| 150 | F9IE | 2023-04-11 |
| 151 | IN3ZWF | 2023-04-11 |
| 152 | RA1TL | 2023-04-21 |
| 153 | EI3DP | 2023-04-21 |
| 154 | HB9BZA | 2023-04-21 |
| 155 | DJ0WJ | 2023-04-21 |
| 156 | PY2UGO | 2023-04-30 |
| 157 | SQ6PNT | 2023-05-05 |
| 158 | F6EQD | 2023-05-07 |
| 159 | 9A/DJ4FF/P, DJ4FF, OE/DJ4FF/M | 2023-05-31 |
| 160 | OE6MMF | 2023-06-07 |
| 161 | IK4MSV | 2023-06-21 |
| 162 | F/G4VFL/P, G4VFL, G4VFL/P, GM4VFL/P | 2023-06-24 |
| 163 | OE5VLL | 2023-06-30 |
| 164 | F8DQL | 2023-07-02 |
| 165 | F5OMU | 2023-07-05 |
| 166 | DF9VN | 2023-07-26 |
| 167 | DL5KUA | 2023-07-27 |
| 168 | OZ9F | 2023-07-28 |
| 169 | DJ9JY | 2023-07-30 |
| 170 | DH1DCN | 2023-08-07 |
| 171 | SV3AQO | 2023-08-07 |
| 172 | DJ7NT, DO7INT | 2023-08-15 |
| 173 | F5RRS | 2023-08-21 |
| 174 | ON4VT | 2023-08-23 |
| 175 | DL2DN | 2023-08-25 |
| 176 | F6GKQ | 2023-08-27 |
| 177 | DH7IF, SV8/DH7IF, SV8/DH7IF/P | 2023-09-23 |
DXCC Gold Award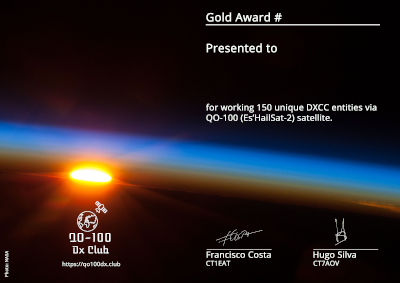 | # | Call Sign | Issue Date |
| --- | --- | --- |
| 1 | LY1RX | 2023-04-07 |
| 2 | EA2AA | 2023-04-07 |
| 3 | PA3FYM | 2023-04-18 |
| 4 | EA3CAZ, EA3CJ | 2023-06-08 |
| 5 | DL5GAC | 2023-07-26 |
| 6 | DJ3GZ | 2023-07-26 |
| 7 | PE1CMO | 2023-07-26 |
| 8 | DD1US | 2023-07-26 |
| 9 | ZS1II | 2023-07-27 |
| 10 | OE3DSB | 2023-07-27 |
| 11 | OM3WAN | 2023-08-27 |