SWL Awards
QO-100 Dx Club proudly presents the QO-100 Dx Club SWL Award
The award is issued to SWL who heard amateur stations (any mode) via QO-100 satellite.
There are 4 levels:
50 DXCC Entities - Bronze
100 DXCC Entities - Silver
150 DXCC Entities - Gold
175 DXCC Entities - Platinum
You can check the list of valid DXCC Entities for the award.
The awards are generated at member's request, issued based on log records and will be available to download on Profile page.
Issued Awards
SWL DXCC Bronze Award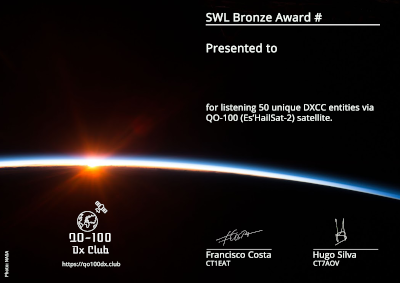 | # | Call Sign | Issue Date |
| --- | --- | --- |
| 1 | F10255 | 2023-08-02 |
SWL DXCC Silver Award
| # | Call Sign | Issue Date |
| --- | --- | --- |
| 1 | F10255 | 2023-08-02 |
SWL DXCC Gold Award