News
Crozet 2022 **Update #5**
2021-12-06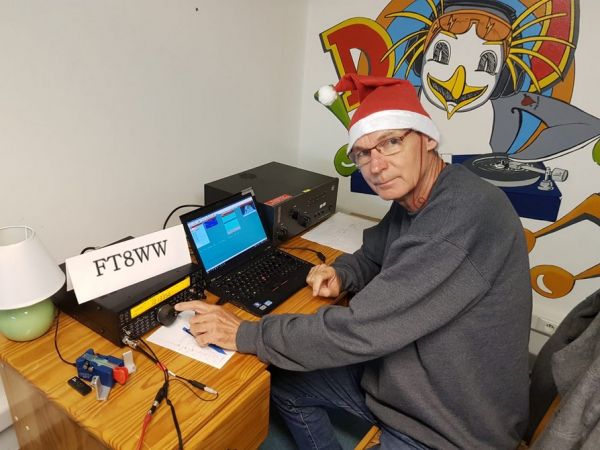 01 Jan 2023 update: Thierry started his operation via QO-100 with huge pile up. For the time being he will only operate SSB.

29 Dec 2022 update: From FT8WW web site: "The installation on the base is done in a sustained way, a big thank you to the logistics team of the base for their precious help, and according to a capricious weather which often upsets the provisional schedule. (...) At the equipment level: Still thanks to the wind, the installation of the QO-100 dish was laborious and the adjustments are in progress despite the intense cold. The weather forecast announces winds of more than 100 km/h for several days and Thierry is crossing his fingers that the dish will stay on the island!"
25 Dec 2022 update: Thierry started the HF operation today at 00.000UTC using FT8WW callsign.
23 Dec 2022 update: Thierry arrived at Crozet Is. 2 days ago and currently he is setting up the antennas and his radio shack. It's likely he will focus his attention on HF during the first month of activity (because the HF operation must end 26 Jan 2023) and QO-100 afterwards.
More information and photos at Crozet 2022 News page.
22 Nov 2022 update: Recently it has been released new information at the official web site. Here are the main topics:
Operation possible between 20 Dec 2022 - 25 Mar 2023
HF operation is restricted (until 26 Jan 2023 only).
QO-100 operation has no restrictions!
This means after 26 Jan 2023 the operator can only use QO-100 sat. So we are confident there will be plenty of opportunities for everyone to have a QSO with this vary rare DXCC.
17 Jan 2022 update: PayPal donations are now possible. To donate, follow this link.
Last October it was announced a one-man Dxpetition by Thierry (F6CUK) to Crozet Is, to take place between December 2022 - March 2023 (you can read the announcement here).
During November more information was released (you can read it here) and the Crozet 2022 web site went online a day ago.
After an email exchange with the organizers, it was confirmed Crozet 2022 will be QRV via QO-100. That is fantastic news.
We encourage all our members to support this dxpedition, so we all have a chance to work this super rare DXCC via sat.
Thank you for your generosity!